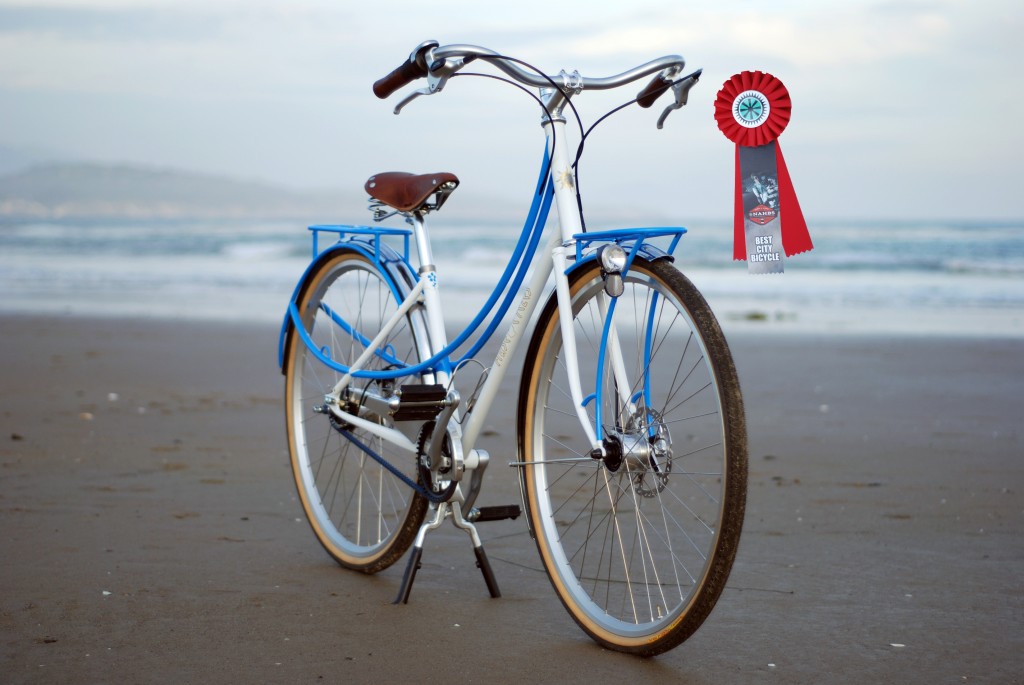 Mezzaluna Mixte Photos From Flickr
The Mezzaluna Mixte by Muse Cycles is designed for a comfortable upright riding posture with a step-through geometry for easy mounting and dismounting. Additional design features include:
Flowing curves
Integrated front and rear racks
Dynamo lighting
Gates Carbon belt drive
Internal cable routing
Hydraulic disc brakes
Shimano Alfine 8 or 11 speed internal geared hub
The Mezzaluna Mixte frame is constructed from a custom blend of double butted, single butted and aircraft grade 4130 steel to ensure classic steel ride characteristics.
The frame is joined using a combination of TIG welding and silver and bronze brazing techniques. Additional features on the bicycle pictured include a graphic carved into the bi-laminate seat cluster and a custom bi metal head badge.
The Mezzaluna Mixte pictured is finished with two-tone wet paint with painted-on decals and graphics. Lug work is highlighted with a contrasting color and the entire bicycle is covered in a pearl clear coat.
Mezzaluna is Italian for crescent moon, a name reflecting the crescent curve of the o sloping top tube. The Mezzaluna Mixte is designed for comfort, durability, functionality, and style Designed for a comfortable upright riding posture with a step-through geometry for easy mounting and dismounting
Pricing
Frame and fork with single color powder coat, a decal in a second color (airbrushed), and  a powder clear coat over the top of everything to protect it by Spectrum Powder Works. Frame and fork comes with a Chris King headset installed in your choice of color – $4000
8 speed mixte build kit with Gates Carbon Drive – $1650
Total with basic paint and components $5650
As shown in pictures above and as awarded Best City Bike at NAHBS 2012 with upgraded paint and components $6900